Robert Korwin, DMD, MAGD, MICOI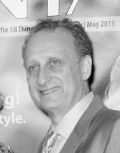 Robert Korwin DMD, MICOI, MAGD, is a gentle caring expert practicing all areas of general dentistry in the Middletown/ Red Bank/ Monmouth County, New Jersey area for over 30 years. A graduate of the prestigious University of Pennsylvania School of Dental Medicine, he holds a Post Graduate Certificate in General Practice, and has received the David L. Drabkin Memorial Biochemistry Award, the Alumni Award from University Of Pennsylvania, a Mastership in the Academy of General Dentistry (MAGD), a Mastership in the International College of Oral Implantologists, and is a highest honors graduate of Progressive Orthodontic Seminars.
Dr. Korwin is a general dentist who holds three dental patents, and has invented and marketed several dental products. He has published in the Journal of Dental Research, Journal of Continuing Dental Education and the Penn Dental Journal, and has been recognized by Straine Consulting as one of only a few American Industry Icons in dentistry.
Dr. Korwin teaches Dental Sedation at St Joseph's Hospital in Paterson, was a Research Associate for the NYU Pearl Network and taught dental residents at a Monmouth Medical Center. He has served as Chairman of the Continuing Education Committee, Chairman of the Provider Approval for Continuing Education and Co-Chairman of the "Advance Into Mastership" Committees of the New Jersey Academy of General Dentistry.
He has lectured at the University of Pennsylvania Department of Restorative Dentistry about mercury in dentistry, to the New Jersey Dental Assistants Association about Sedation Dentistry, to the Monmouth Medical Center Dental Department about patents, to Invisalign Study clubs and has been featured on video productions on amalgam hazards, and doxycycline periodontal patient education. The doctor has been a contributor to the ABC News Show 20/20 profiling toothpaste. He has one of only two dentists to have been awarded Graduation with Highest Honors from Progressive Orthodontic Seminars, and is certified in TM Joint Analysis (TMD, TMJ) by the Bio Research Association.
Along with a degree in psychology and an appointment by the Governor of New Jersey to the New Jersey Board of Psychological Examiners, Dr Korwin has developed expertise in helping very anxious patients with oral and IV sedation by mastering the art of painless injections and by codeveloping Calmistry, an audio recording which reduces dental anxiety.
He is a member of the American Dental Association, New Jersey Dental Association, Monmouth Ocean County Dental Society, Academy of General Dentistry, International Association for Orthodontics, International Congress of Oral Implantologists, The Dental Organization for Conscious Sedation and is a Board Member of the American Society for the Advancement of Anesthesia and Sedation in Dentistry. In addition, Dr. Korwin has amassed over 2500 hours of continuing education in dentistry.
Dr Korwin began his career as a commercial artist and jewelry sculptor, exhibiting with, and commissions coming from, long standing companies in Manhattan's Jewelry Row,as well as trade shows up and down the East Coast of the US. He merged his artistic and scientific talents by becoming a skilled restorative and surgical dentist. He and his wife Susan, a life and style consultant, have three accomplished sons: Josh, a graphic and web designer and photographer; Zach, a dentist in training at the University of Pennsylvania School of Dental Medicine, musician, web designer and award winning packaging engineer; and Devin, musician, composer and talented artist.